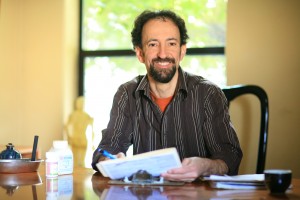 Ken Bendat has been Nationally and State licensed in Acupuncture and Herbology since 1987 – and has been practicing continually in Ashland since his return from interning in China in 1992.
Annually chosen "best of Ashland" by the Sneak Preview, Ken blends a relaxed manner (also the style of his teachers) with a precise understanding and application of traditional methods.
Family practice with children, seniors, and special needs very welcome. Disposable needles with gentle technique – as well as moxa heat therapy, electroacupuncture, cupping and tuina massage as needed
Herbal and/or dietary advice and prescription is given according to individual condition and constitution based on classical diagnosis as applied to modern needs. Ken has extensive experience and success in the use of Chinese herbs for chronic conditions.
Ken has maintained a lifelong interest in Asian culture and medicine – stemming from discovering the limitations of modern medicine in treating illnesses in his family and a deep appreciation for the role of the mind and spirit in fully healing chronic illness.
While completing a bachelor's degree at UC Santa Cruz in Biology and Environmental Studies, Ken briefly attended a Chiropractic college, apprenticed on an organic farm, and lived in a Tibetan Buddhist center. Through these experiences he discovered that a career in Chinese medicine was the path that made sense. At 24 he began his education at Five Branches Institute school of Traditional Chinese Medicine (TCM) in Santa Cruz, being in their first graduating class in 1986. While studying he completed several internships with private practitioners as well as received his Diplomate status degree and California license.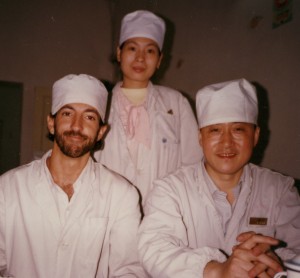 After practicing in California for 5 years, Ken travelled to Southeast Asia and China for 7 months in 1991-1992. After opening up a free clinic in Penang, Malaysia, Ken travelled to Hangzhou, China – a town famous for its West Lake ("in heaven there is paradise, on Earth there is Suzhou and Hangzhou")  While on the way to the TCM teaching college his first morning off the train, a passerby took him to the local peoples' TCM hospital – the Zhejiang Provincial hospital near the famous lake. Ken spent 3 months there – interning with a reknown Lung/Stomach herbal doctor and a Gyn/fertility herbal doctor, as well as studying acupuncture and infant tui-na (massage) at the teaching college. He was spotted playing guitars in the dorms and asked to play his guitar for a local university show.
Ken has always felt it important to maintain a Chinese bulk herbal pharmacy  – knowing that in Asia these are the gold standard of making a classic formula – specially in regards to keeping the herbs available for acute respiratory disorders. As well as that he makes use of modalities such as moxibustion, electro-acupuncture and cupping. Ken views himself as a family practitioner of TCM rather than a 'specialist', appropriate as Chinese medicine at its classical root is not a medicine of 'specialization' but rather the focused clinical and well-read application of the study of 'qi' and 'blood' to the condition of the clients body, energy, and mind. Regardless of the condition, he prefers an initial consultation to determine how well a particular person with their own unique makeup will respond to using Chinese medicine.
Ken enjoys taking some time to educate clients who are interested in not only understanding their personal 'clinical' Chinese medicine condition from a TCM perspective that they can relate to, but more importantly be able to transfer that diagnosis into the 'folk' level of being their own doctor. Ken teaches about the role of movement (qi gong), eating (the role of seasonal diet and nutrition, herbal supplementation), and sitting (meditation, sleep, letting go) in the development of a personal path towards wholeness, happiness, and longevity. By following the ancient principles of eating, moving, and exercising according to the flow of the seasons the student can 'economize' – alleviating the need for overly intensive supplementation therapies.
Ken is licensed by the Oregon Board of Medical Examiners as a Licensed Acupuncturist (L.Ac.) as well as holds a Diplomate by the National Certification Board (NCCAOM). He is also an adjunct faculty member of the World Medicine Institute, a TCM college in Honolulu, Hawaii.